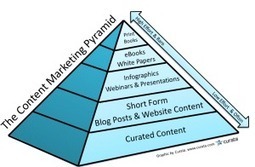 The realization that a meaningful and effective online marketing presence requires large amounts of content can often send small and lean midsize organizations spiraling into despair.
Larger organizations, after all, often have whole teams of writers, video producers, audio engineers and graphic artists churning out high-quality, branded content that they can distribute through their social media channels multiple times per day. There is no way smaller businesses with their available resources can compete. Or can they?
The value of content in online, inbound marketing can't be understated. To embrace social marketing is to commit to audiences online in a disciplined and consistent way on a long-term basis. In plain English, this means you must post a minimum of five to seven days a week with information valuable to your audiences, with the goal of giving them the confidence they need to purchase from you. But what to post? A broken record of product promotion will likely turn off all but your most loyal of brand advocates; and as noted above, resources make it impossible for most to be able to produce copious amounts of quality content to distribute every day of the week.
See on socialprosemedia.com