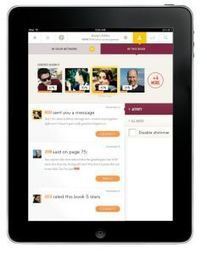 Zola Books, a new social eBooks site to discover, buy and discuss books, just announced that it is launching its private beta today. The company also announced that it has raised $1 million in seed funding from prominent authors, including Audrey Niffenegger (The Time Traveler's Wife), Josh Bazell, (Beat the Reaper) and Chandler Burr (The Emperor of Scent). Former Time, Inc. executive Bill Shapiro, the former top editor of Life, is cutting back his time at Time to join Zola Books as the company's head of innovation and strategy.
The company's Zola Social Reader will work on the Kindle Fire, Nook and iPad. Zola Books will make both native apps as well as HTML5 apps available for its readers.
Given the controversy surrounding eBook pricing right now, the company has decided to hold off from selling books until the publishers and the U.S. Department of Justice have settled their current issues. Zola Books plans to use an agency model for selling books, meaning it will give authors and/or publishers full control over the pricing of content their are publishing exclusively on the site. By the time it launches publicly, the company expects to have every publisher on board. Exclusive content on the site will be offered DRM free.
See on techcrunch.com