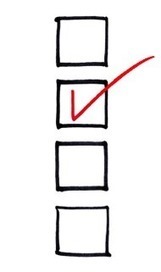 Everyone knows that content marketing is the "new" marketing approach that all the cool kids are supposed to be doing.
Coca-Cola is doing it, Ikea is doing it, Copyblogger has been talking about it for six years now, so it's a no-brainer, right?
Except, uhhhh, what is it exactly, again?
If I was going to boil it down to its absolutely simplest form, I'd say that content marketing is communicating with potential customers in a way that:
An audience actually enjoys paying attention to, and that
Demonstrates to that audience that you would be a good person to do business with.
Combining those two "simple" factors can be a little tricky to execute, though.
So today, I'm offering a checklist to make sure you're building your content marketing on the right foundation.
Just like nutrition, parenting, and the designated hitter rule, there are passionate differing schools of thought on some of these.
But this is my "essential" list for you to build a solid content marketing program on. Check these off, and — based on my experience in my own businesses and those of my students — you'll have the right framework to create a successful program.
See on www.copyblogger.com